About the Founder & President
Dr. Donovan W. Christie, MD, MS, CPE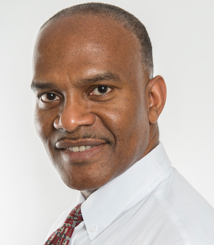 Dr. Donovan Christie is Board certified in Internal Medicine, Preventive Medicine and Pediatrics and is a Fellow of the American Anti-Aging Association (4A). Dr. Christie is a graduate of Fordham University in New York and Albert Einstein School of Medicine. He completed a combined residency program in Internal Medicine and Pediatrics at the Columbia University in New York City. After spending 10 years in Corporate America at Aetna and Cigna, he returned to his passion – preventive health and healing. Dr. Christie and his wife Jacqueline started ANWAN Wellness Medical Center in 1998, an integrative practice that focuses on wellness and anti-aging. He is Founder and President of the Picture of Health Foundation, LLC.
He was driven at an early age to rise above his humble socio-economic beginnings. As one of 9 children, Dr. Christie took his mother's advice to heart and set out to become a Doctor. He easily graduated in the top 10% at Taft High School in the Bronx and went on to a small four-year liberal arts college in Buffalo, New York.
Dr. Christie grew up very fast. He got married at 20 and had a fulltime job while raising a family and being a fulltime student in college.
Dr. Christie's mother did live to see the day that her son became a Doctor. The sad part is that she died at an early age from a preventable cardiovascular disease. This tragedy changed the direction of Dr. Christie's career. No longer satisfied with being the Regional Medical Director at a leading Insurance Company, he and his wife, Jacqueline decided to launch what would be ANWAN Wellness LLC. ANWAN Wellness Medical Center focusses on lifestyle change as the primary way to treat and prevent disease. Dr. Christie believes every patient should be taught that good health depends on the triad of good nutrition, adequate exercise and the management of stress.
The Picture of Health Foundation was founded out of Dr. Christie's passion following a change in his attitude toward his own health by the premature death of his mother from a preventable cardiovascular disease. Over the course of his clinical career, he encountered hundreds of cases where knowledge could have yielded better health outcomes. He wanted to extend health education to the community and to empower people to change unhealthy lifestyles thereby increasing life expectancy. In addition, his need to provide for the underserved has taken him outside the borders of the United States. For the past 10 years, he has participated in or led several short-term medical mission trips to Sierra Leone, Costa Rica, Jamaica, Honduras, Haiti, Nicaragua, Liberia and Kenya.
A father and grandfather, Dr. Christie is also an active member of Victory World Church. He leads many small group Bible studies including a focus on building strong marriages.